Understanding "The Tale of Genji" through Manga (UTGM)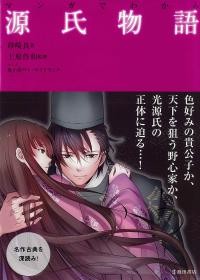 What's this book?!
It's an illustrated guide for understanding The Tale of Genji, a famous classic in Japan.
What's The Tale of Genji?!
It's one of the masterpieces of classic literature in Japan. British scholar Arthur Waley translated it into English in 1925. It has become well-known all over the world.
When was the tale written?
It was written around 1008, in the Heian Period in Japan. [The Heian Period is an era in Japan, dating from 794 to 1185.]
What's the story?
It's a story about a prince, with talent and beauty, who overcame obstacles, and then reached the highest position in court. It is also a tale about his desendents, with plot elements such as a love triangle. 
What is the significance of The Tale of Genji?!
Not only is it a classic,  but it still has a role in pop culture even today. 
There are many things in this classic; romance, politics, dress, history. 
This book, UTGM, will help readers to enjoy the classic easily with manga, illustration, and explanation.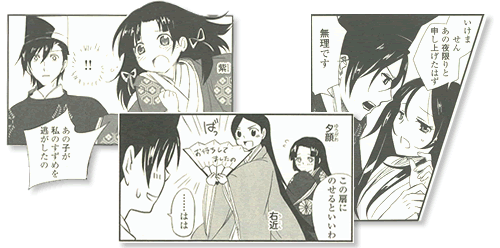 The 3 main features of "UTGM"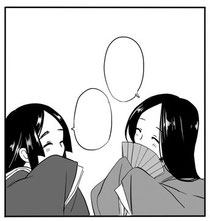 1. A complete summary!!
The Tale of Genji has 54 volumes. Although some of them have just several pages, the total is over 1000 pages. This book UTGM, collects the essence of the classic and makes it into a enjoyable read. 
2. The combination of story-illustration (manga) and explanation
In this book, main stories are told through manga. Each volume has a manga-told-story and explanation of the story. 
3. Reference sections with background information & context.
In Japan, in the Heian period, there were rules and ettiquette that have been forgotten.
The book, UTGM, features special columns to inform the reader of the background of the Heian period. 
We are in the stages of producing an English translation.
Currently we are in search of an English publisher. If you are interested, please click here!
Outline of "The Tale of Genji"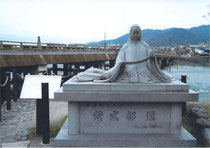 This classic was originally written as one book but in modern terms, it is considered as a book with 3 volumes. 

The first volume is a story with fantasy and fairy tale elements.
An extrordinary super hero, who had once been defeated and exiled in the country,
came back to court and defeated his enemy and rival.
At last, he achieved his greatest success, a dominant position as a politician,
a residence that could be compared to an imperial court, and a happy family-life.
It also contains many plots in which the hero has a variety of love affairs with heroines. 

The second volume has a darker, more realistic tone.
Even though the hero was able to acquire status, wealth,and
a facade of a seemingly happy marriage, there were times of isolation,
agony, and misery in his life. His life consists of a range of events,
from committing a sin during his youth, to being punished for it as an adult,
to the death of his beloved one; all of which eventually led him
to become a monk in the end. 

The third volume is a novel with realism that described the dark side
of the egoism of human beings. It focuses on a new hero, who was believed
to be the son of the first hero. This hero is characterized as a pessimist
and self-hypocrite, who became so as a result of his long-lasting suspicion
that another man was his real father. His psychological issues were a burden
throughout his life, mainly with cowardice, which prevented him from obtaining true love. 
Main Characters of "The Tale of Genji"
The long classic has more than 500 characters, and the indespensables are below.
First Volume
1. Hikaru Genji (Hero)
His name means "Shining Prince". An ideal gentleman for ladies in the Heian Era.
2. Fujitsubo (Heroine)
An eternal love for the hero. His young step-mother, and an empress of the era.
3. Murasaki (Most beloved wife) 
Fujitsubo's niece. A lady of perfection with beauty, elegance, intelligence, and an exquisite skill as a housewife.
4, To no Chujo (Rival) 
Hero's closest friend and rival. A gorgeous gentleman with power and wealth, having arrogance, vanity and a hot-temper.
Hikaru Genji's life started with misfortune and tragedy, a mother's early death, disinheritedness to crown, and hopeless love for Empress Fujitsubo. But he managed to overcome every obstacle with his talent, and defeated his rival To no Chujo, leading to happiness with Murasaki, an identical beauty of Fujitsubo.
Second Volume
1. Hikaru Genji (Hero) 
The highest-positioned man in court, but now is aging.
2. Murasaki (Heroine) 
First volume's Cinderella-figure, but now facing challenges of age and competition from the Third princess.
3. Third princess (Hero's first wife) 
A new character, and also Fujitsubo's niece. Young and rich but childish and foolish.
4. Kashiwagi (A lad who loves the Third princess) 
A man who was raised as if he were the hero's son.  A well-bred elite with intelligence and naivety.
Hikaru Genji, tempted by the Third princess's nobleness and bloodline, accepted her as his first wife. This marriage broke his happiness with Murasaki. Even worse, the Third princess betrayed him with Kashiwagi. Hikaru Genji considered this unhappiness as a punishment due to his misconduct with Empress Fujitsubo earlier in his life. This regret lead him to become a monk after Murasaki's death.
Third Volume 
1. Kaoru (lead character) 
Respected by people as a son of Hikaru Genji and the Third princess, but was in fact the son of Kashiwagi. A pessimistic and traumatic character.
2. Prince Niou (Rival) 
Kaoru's cousin. A true epicurian and lady-killer.
3. Oi Gimi (Kaoru's first lover) 
The oldest sister with lots of pride, longing for a religious life.
4. Naka no Kimi (Kaoru's second lover) 
A younger sister of Oi Gimi. A care-free, cunning lady.
5. Ukifune (Kaoru's third lover) 
The third, half sister of the two ladies. An illegitmate child and low-ranked lady with timidness and obedience.
Kaoru, who was afraid of life in court, was fascinated by Oi Gimi, a daughter of the exiled and late prince, raised in the country-side. After her rejection of his proposal, along with its mental toll contributing her death, she became the eternal love for him. He began to love Naka no Kimi, her sister, who had already gotten married to Prince Niou. Kaoru failed to get her attention, and had Ukifune be his mistress as a replacemaent. Later, however, she happend to fall in love with Prince Niou. After losing her, Kaoru realized his true love for her, but by then, it was too late.
A history of The Tale of Genji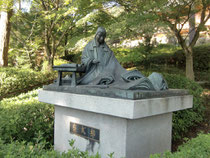 "This is the worst fate for me that I have you not as a son but as a daughter", said the father of Murasaki Shikibu, the author of the Tale of Genji. It was 1000 years ago, the era of emperors and nobles. There were few jobs for women, so the father, a poor scholar desperately wished that his wise daughter had been a man, who could be promoted as a bureaucrat, a dreamed position for middle ranked nobles like him. Murasaki Shikibu listened to what her father taught her brother, and she aquired not only knowledge but also wisdom.
  Her gender, to the contrary of her father's beliefs, lead her to an even more prestigious position in court. She was asked to be a teacher and companion of the empress of the era, and also became close to the prime-minister, the empress's father. It was the era that politics were held by people who had a personal relationship with emperors. The prime-minister wanted to put talented ladies in his daughter's surroundings, hoping that they would influence the empress to become more fascinating for the emperor. It was why Murasaki Shikibu was ordered to give lessons to the young empress, and she decided to write "The Tale of Genji", which was interesting and useful for her to learn poetry, history, etiquette, and so on.
  "The Tale of Genji" bursted into popularity. However, no one had recorded her name, date of birth, life history, and date of death. Many people, especially men, thought the tales as lesser entertainment for women and children. Due to a lack of recognition, no one made a record of her. Murasaki Shikibu disappeared from history. Copies of her tale remained ― being continuously read, quoted and used in every genre of culture in Japan for these thousand years, being translated into nearly 20 languages and being well-known all over the world ― with the author's name: Murasaki Shikibu.
Things that help first-time readers of The Tale of Genji
Some scholars think that the book was really 2 tales for 2 different audiences. 
The former was a reader for the emperor and empress at that time. 
Thus, the writing style was formal, and the content was about dynasty, governance, virtue of a lady, and so on. 
The latter was written for noble ladies in Kyoto, the capital city at that time. Every chapter of this tale presented a new heroine of the same status as their readers.
The story was about affairs, and the tone was casual and a little bit scandalous. 
Although, the 2 tales might have been written separately at first, the current "The Tale of Genji" is organized as 1 tale, and the chapters are ordered depending on the hero's age. 
It is why the solemn chapter 1st is followed by lighter 2nd, 3rd, and 4th. 
Today's readers should be careful about which chapter belongs to which groups. If not, they would be confused by the difference of tone, content, and the nature of the hero. 
My recommendation is to read some chapters from the second group at first. Each story is short, independent, and easy to understand. In my opinion, the 4th "The Twilight Beauty", or "Evening faces" is the best. (The original title is "YUUGAO".) A short and passionate yet tragic love story.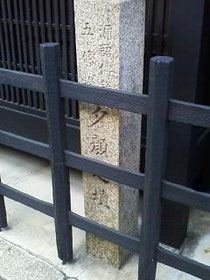 The picture;
A monument for YUUGAO. 
YUUGAO is a young heroine of the 4th chapter who lost her life in the story. 
Though she was fictional, a fan of the character in the Edo Era (1600-1867) constructed a monument for her as a tribute. 
People in Kyoto, who love tradition and history, have been keeping this monument.